Cycle Mizen Head to Malin Head in 12 Days. 
Approximately 87 km and 800 meters per day. 
Suitable for the 'Active' rider. 
The west coast of Ireland is rich in awe-inspiring landscapes, fascinating characters and foot-tapping music. Cycling from the most southerly point to the most northerly will leave you with rich memories, new friends and a thirst for more! There is no better way to explore the wild beauty of the Wild Atlantic Way than from the saddle. The grandeur of the Cork and Kerry mountains. The warmth and joy of a night in a Galway pub. The lunar like landscape of the Burren. The packed mountain ranges dominating the horizon of the Connemara National Park. The giant Sea Loughs of the Inishowen Peninsula. Your end-to-end journey of 12 days has a breath-taking finish on the rocky promontory of Malin Head. If you prefer something with longer daily distance, then think about the 8-Day version.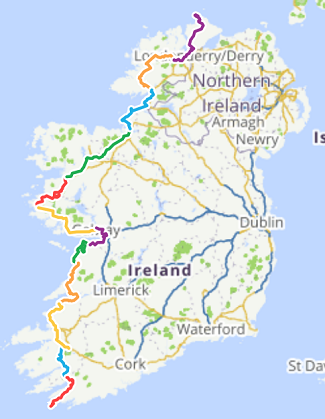 12 Nights 13 Days
26 Jun, 28 Aug, 25 Jun, and more
Cork International Hotel, Cork Airport
What is included in the tour
Airport transfers at the start and finish 
Accommodation and breakfast in great hotels
A delicious 3-course finishing meal
Shannon Estuary ferry fare
Luggage transfer
Advice on places to stop for your morning coffee
Water, Soft drinks, fruit, cakes and bars en route
Hearty lunches in pubs or restaurants on cycling days
Van and mechanical support
GPX route files
A 'MizMal' End-to-Enders medal!
What is NOT included in the tour
Evening meals - Our stopovers all have reasonably priced restaurants and pubs nearby and most of the hotels have good dining. Breakfast and lunch IS included
Optional trips / entry fees for any excursions you arrange independently
Insurance - you need to organise your own bike and travel insurance as required
Gels, high energy bars, energy powder and shakes - bring your own as per what works best for you and your tummy!
The 13-Day Tour consists of 12 full days of cycling. If you prefer a more strenuous challenge we also run an 8-Day Tour (8 days of cycling). The first day is our transfer and arrival day. The total distance is 1,040 km averaging 87 km per day. The total elevation is 9,708 m averaging 809 m per day. The 13-Day Ireland End-to-End is a moderate tour. Some days do include moderate climbs and medium level distances. Depending on how regularly you cycle and what distances you are used to, you will most likely need to do some training. Don't forget you have 12 cycling days in a row without a rest day.
The tour is primarily on quiet roads with a small number of joining sections on busier roads. Some cycling in towns and cities is necessary, particularly at the start and end of the day.
Roads are generally well surfaced and suitable for of 25 mm or more. We recommend a good quality and well-fitted road bike for the 13 Day tour. We may be able to provide hybrids bikes for hire should you not wish to bring your own. If bringing your bike in a box, we can remove it and return it to you at the end of the tour.
Day One - Arrival Day

Day Two – Mizen Head to Glengarriff 37 mi 2,086 ft

Day Three – Glengarriff to Killarney 44 mi 3,100 ft

Day Four – Killarney to Ballybunion 50 mi 1,500 ft

Day Five – Ballybunion to Spanish Point 49 mi 2,200 ft

Day Six – Spanish Point to Ballyvaughan 41 mi 2,500 ft

Day Seven – Ballyvaughan to Galway 46 mi 2,000 ft

Day Eight – Galway to Clifden 58 mi 1,900 ft

Day Nine – Clifden to Westport 52 mi 3,100 ft

Day Ten – Westport to Sligo 66 mi 2,700 ft

Day Eleven – Sligo to Donegal 53 mi 2,400 ft

Day Twelve – Donegal to Letterkenny 55 mi 3,700 ft

Day Thirteen – Letterkenny to Malin Head 58 mi 3,100 ft, then drive to the city of Belfast via the International Airport
Cork International Hotel, Lehenagh More, Cork Airport Business Park, County Cork, Ireland
View on Map
Rider Type
Active Cyclist